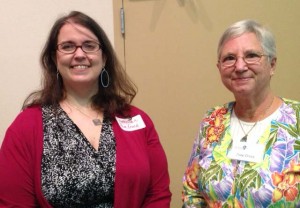 The Monterey Peninsula Branch, founded in 1928, is committed to the educational, cultural and environmental improvement of our area as well as our world. We offer thought-provoking programs, interest groups and camaraderie for our intellectually curious members. We are a dynamic group with a common mission to break through barriers for women and girls. We are a network of friends.
Our membership base draws from the local area—Monterey, Carmel, Pacific Grove, Pebble Beach, Marina, Seaside, and unincorporated Monterey County and beyond. There are no barriers to membership based on gender, race, creed, age, sexual orientation, national origin or disability. We are privileged to share membership in the National AAUW and the California AAUW communities.
Branch Vision Statement:  AAUW-Monterey Peninsula Branch participates in AAUW policies and programs through study, action and public policy advocacy. Our goal — achievable only through intellectual growth, equity for all women and girls, and positive change in our community — is to advance women in the 21st Century.
---
Recent Branch Honors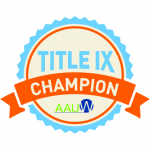 Congratulations Wendy!!
Wendy Smith, an AAUW MPB member and speaker at our April 2016 meeting on Title IX, was recently awarded the National AAUW Title IX Champion Award. Read more about Wendy on the AAUW Title IX Champions page.
 Award Winning AAUW MPB Program!
At the AAUW-CA 2016 convention, the program committee presented program recognition awards to 17 branches for their efforts to advance AAUW's mission, adding them to the Wall of Fame. The Monterey Peninsula Branch was one of them, for presenting "More About Human Trafficking from a Survivor", featuring a survivor who had been subjected to sexual abuse from age 10 to age 35.
AAUW CSUMB Student Chapter Honored!
We are proud to announce that the California State University Monterey Bay student affiliate, AAUW@CSUMB, has been awarded the 2015-2016 Interclub Club Counsel Outstanding Club of the Year by the Student Org Awards! This is an impressive cap to their first year. In addition to having their name etched in a plaque in the Student Center, they have been awarded $300 to help fund future events.
---
Top 50 finalists in AAUW Art Contest