The Monterey Peninsula Branch, founded in 1928, is committed to the educational, cultural and environmental improvement of our area as well as our world. We offer thought-provoking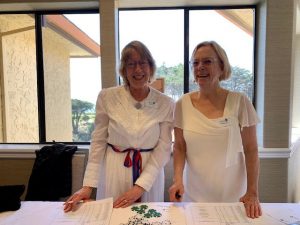 programs, interest groups and camaraderie for our intellectually curious members. We are a dynamic group with a common mission to break through barriers for women and girls. We are a network of friends.
Our membership base draws from the Monterey County area—Monterey, Carmel, Pacific Grove, Pebble Beach, Salinas, Marina, Seaside, and unincorporated Monterey County. There are no barriers to membership based on gender, race, creed, age, sexual orientation, national origin or disability. We are privileged to share membership in the National AAUW and the California AAUW communities.
Branch Vision Statement:  AAUW-Monterey Peninsula Branch participates in AAUW policies and programs through study, action and public policy advocacy. Our goal — achievable only through intellectual growth, equity for all women and girls, and positive change in our community — is to advance women in the 21st Century.
Celebrating the Centennial of Women's Suffrage