The Monterey County Branch of AAUW is a group of dedicated women who work to overcome gender bias in all areas of society—from the community to the classroom to the workplace. AAUW fosters a community of people who value education, information and equal rights. An invaluable component is networking with other members and developing relationships that stimulate a lifetime of personal and professional growth. We continually welcome new members.
Membership is open to anyone holding an associate or equivalent degree, a baccalaureate, or a higher degree from an accredited college or university.
We seek a diverse membership with no barriers on the bases of gender, race, disability sexual discrimination, national origin, creed or class.
Annual membership dues include national, state and local fees for the fiscal year July 1 through June 30. You can become a Life Member and receive all the membership benefits while avoiding possible national dues increases.
Prior to completing the membership application, please contact the Membership team for the Monterey Peninsula Branch for information on the various types of membership and the costs.
Dues Based on Membership Type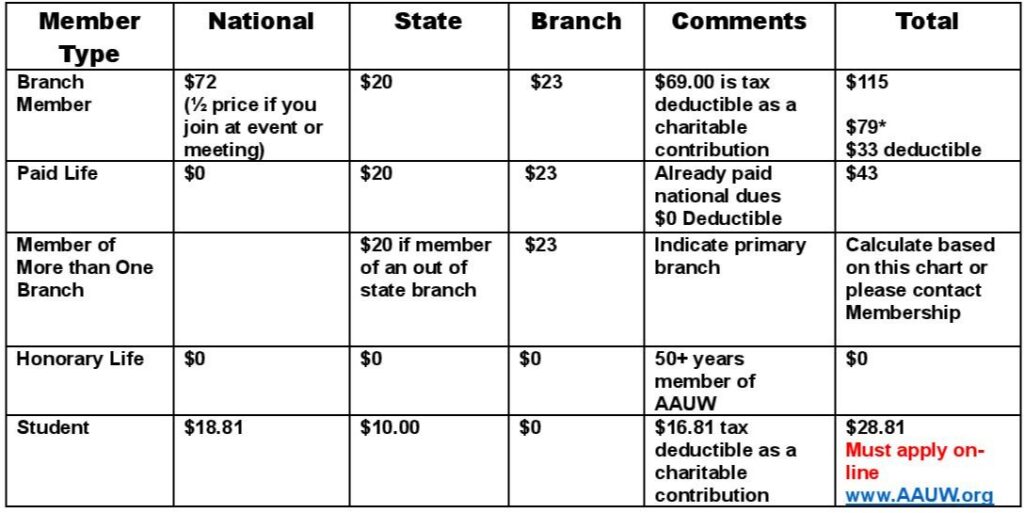 Local contacts:
Anne Albano apalbano@att.net (831) 595-5394
Julie Smith smith.julie333@yahoo.com (831) 500-1785
After speaking with one of the Membership team and verifying the correct amount of the dues, you may submit the completed application and send your dues check, payable to "AAUW-MPB" to:
AAUW-MPB Membership
P.O. Box 1786
Monterey, CA 93942
If you know anyone who is interested in AAUW,
please contact our Membership Vice Presidents (listed above).