Local Scholarships
Since 1952, we have awarded over 190 scholarships to recipients pursuing higher education. We partner with Monterey Peninsula College, Hartnell College, and California State University Monterey Bay to identify candidates. These students demonstrate academic excellence, goal orientation and community involvement. Many of our recipients are the first in their family to attend college. All have significant financial need. A team of our members interviews the candidates and selects the scholarship recipients.
Our goal is to award at least eight scholarships each year. We earn funds through community grants, member contributions and fundraising activities.
The Local Scholarship Fund has been granted a non-profit 501(c) (3) tax status. All contributions to this fund are deductible from federal and state income taxes. Contact Maggie Pedersen at maggiep52@hotmail.com if you have any questions about the program. To make a donation, please click on https://mpb-ca.aauw.net/donate/.
Click this link for information about our current scholarship recipients: Current Recipients
Click this link to learn the plans of our recipients as they graduated and started their careers: Updates from Graduates
Thanks to our current organizational funders:
Tech Trek
Tech Trek, a six-day summer Science, Technology, Engineering and Math (STEM) camp for girls entering eighth grade, provides girls an opportunity to learn more about STEM careers at a pivotal time in their lives. This program started in 1998 and is sponsored by AAUW California. Local teachers recommend students with high STEM potential and our members interview the girls in a highly competitive process. The Monterey Peninsula Branch sends at least six campers each year, raising the funds through events, grants and member contributions. Selecting students from populations that would not otherwise have such opportunities is one of the considerations when determining our campers. Tech Trek is administered through the AAUW-CA Special Projects Fund, which makes donations tax-deductible.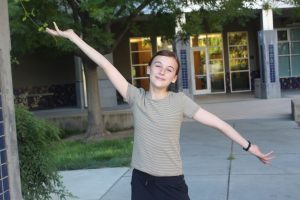 Local Tech Trekker at UC Davis Camp
Who wouldn't want to spend a summer week living on a university campus taking STEM core classes, hands-on workshops, labs, field trips and making new friends? A valuable part of Tech Trek is interacting with women who model science, technology, engineering and math expertise on a daily basis. Also of value to the young students is interacting with like-minded girls of their own age who share common interest in the STEM areas. A Virtual Camp option is also an option when an in-person experience is not possible.
The campers we've sent say that Tech Trek is the most important personal and academic experience of their middle school years. We are introducing these students to a world of possibilities and exciting futures. Click on the link to read letters from Past Participants.
Thanks to our current organizational funders:
Yellow Brick Road Benefit Shop
GOV TREK
This virtual program for high school junior and senior girls is designed to elevate the next generation to pursue careers in public service and elected office. Over five two-hour sessions, students will engage in interactive and inspiring activities with exposure to women legislators, career options, and the inner workings of a political campaign. The program will culminate in a group competition to create a realistic campaign simulation.
Community Action Projects

The Monterey Peninsula Branch of AAUW will consider Community Action Projects that improve the quality of life in our community. Our past projects included: working with other non-profit organizations to open a Child Development Center on the Monterey Presidio; advocating for the designation of the Monterey Bay as a Marine Sanctuary; conducting a study called "Educating the Forgotten Majority" that examined appropriate counseling and programs for high school students who do not plan to complete a four-year college degree program; and presenting the Start Smart Workshop on salary negotiation at CSUMB.