DON'T FORGET AAUW DEDUCTIBLE DONATIONS!
Please note that if you paid the full $95 AAUW yearly dues, $56 of that amount is tax deductible. In addition, any donations to our charitable funds will be tax deductible for a tax year if paid by December 31 of that year. Donations can be sent as follows, using the form below:
Local Scholarship
Make check payable to
AAUW-MPB Local Scholarships
Send to: Kathy Poulson
1092 Presidio Road
Pebble Beach, CA 93953
Federal Tax ID: 81-0567656
Tech Trek
Make check payable to 'AAUW CA SPF'
with "Tech Trek" in memo line
Send to: Karen Hall
13 Harryette Drive
Salinas, CA 93905-3319
Federal Tax ID: 68-0463071
AAUW Funds
Make check payable to AAUW
with "AAUW Fund" in memo line
Send to: Gabriele Simbriger-Williams
P. O. Box 1786
Monterey, CA 93942
Federal Tax ID: 52-6037388
Click on the form to enlarge or download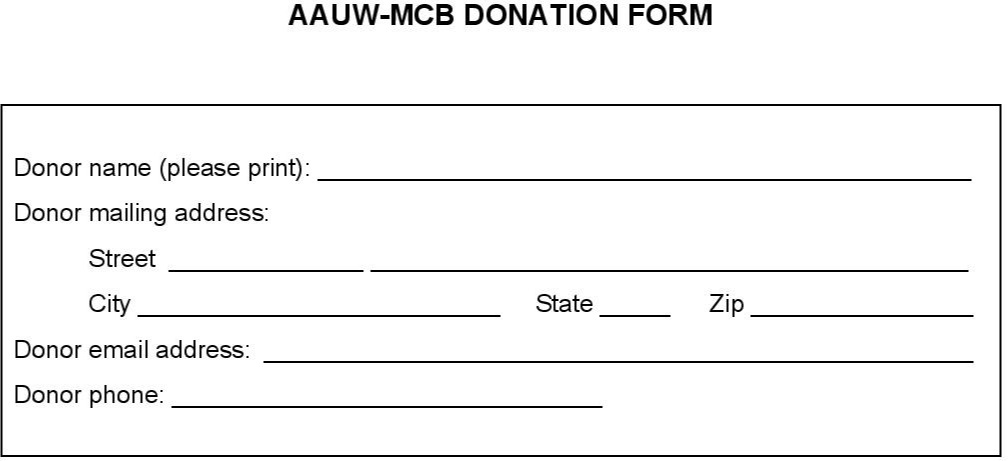 If making a donation directly from an IRA as a qualified charitable donation (QCD), please consult your tax advisor or www.irs.gov for further information.